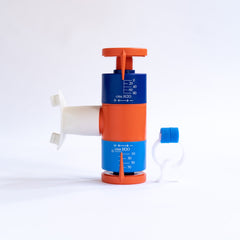 Orygen Dual Valve
Specially designed together with lung doctors at Hospital del Mar (Barcelona, Spain) for respiratory recovery. It allows patients to train the inspiratory and expiratory muscles simultaneously and to adjust the levels independently. The Orygen Dual Valve is a low cost, portable and easy to use device, also recommended for vocal musicians and athletes.
See Details
Olympic Medalist Jessica Vall explains the benefits of using O2V Sport for the best training

Improve breathing performance
Try Orygen Dual Valve during 4 weeks and you'll notice amazing improvements in your lungs capacity

Helps COVID, Asthma and COPD
Orygen Dual Valve helps reducing the effects of Asthma, COPD, COVID-19, Dyspnoea, Dysphagia and Hypertension

Push your lungs to a new limit
Boost respiratory muscles resistence

Improves inhalation and exhalation muscle strength
Orygen Dual Valve is unique in the world. You can train both inhalation and exhalation systems by using the same device.

Specifically for high performance athletes
Find new breaking points. Push yourself to the limits.

Just two times a day
Extremely easy to use. simple exercises that will expand your lungs

Most powerful in the market
Biggest settings ranges both in the inspiratory and expiratory phase.

Quick Results
You will notice major improvements in your breathing endurance in just 4 weeks.
Orygen's Valve ability to increase lung power started to notice the first month I used it. It makes training simple and provides regulatory valves that help keeping track of your current state. I would suggest it to everybody that's looking to improve their breathing. It's really easy to clean and never had a problem with it for the last year.

Completely worth it.

John Doerr
I was able to see improvement over the weeks of use as I kept dialing up the resistance on both inhalation and exhalation. It's the only product I've seen that covers both. I'm now in maintenance mode and only use it a couple of times a week (I seem to be holding steady). I did see a reduction in blood pressure but I cannot be sure if it was the product or other things I was doing. Customer support is very responsive--I asked about better instructions for getting started and they responded via email and posted a helpful Youtube video of instructions.

CJ Updike
As a singer I found orygenvalve to be a great tool at helping me strengthen my breathing muscles. I can maintain my rib cage expanded for longer, meaning longer and more legato phrases, and inhaling feels easier. I would recommend it to musicians who play wind instruments or sing!

Alba Bosch (Professional Opera Singer)

Chronic Obstructive Plmonary Disease (COPD) is a lifelong lung condition. It often develops in individuals who have long-term exposure to...
If there is anything 2020 will be remembered for, it will be the COVID-19 pandemic. The virus outbreak that occurred...

Do you dream of making on your middle or high school football team? If you get on your football team,...